Oh, Leslie. Where do I begin?
When Leslie's mom asked me to shoot her only daughter's bridal session, I was honored, especially since I'd never shot a bridal session, and Leslie and her mom apparently had enough faith in me to pull it off. It was almost a year in advance, so I knew I had plenty of time to brush up on learning the ins and outs of bridal portraits. But you guessed it, I never really did any research on it. Not because I didn't want to know, but mainly because I didn't want any other influence over my regular style of portraiture. I wanted to make sure that whatever the results would be, that my signature style would be stamped all over it.
______________________________
I've known Leslie since she was a little bitty, bright-eyed girl, tagging along with her older brothers, wanting to be part of their worlds. She was a rough-and-tumble kid, no-nonsense, and quick to let you know her opinions, much like she still is today. You'd think she was MY little sister.
Wherever her older brother Chris was, you can bet Leslie wasn't far behind. Keeping up with us teens, knowing all the gossip of the latest hook-ups and break-ups in our teen drama-filled worlds.
All at the ripe ol' age of 4th grade.
As we all graduated and moved on to college and started our families, Leslie was growing up too. Kind of strange to come home for a weekend and see a 16-year-old girl that you only remembered as little kid. And she still had those big, beautiful green eyes. Soon, I was raising my own little crew of children, and she became an impromptu babysitter for our family, back when we only had two and three kids. And she's wonderful with kids.
Then I watched her grow up and become an adult. Just like we all do.
______________________________
We started out at her grandparent's home – I had this grand idea to incorporate their gazebo into her session, to add a personal touch and something that her mom and her grandparents would cherish. This was a more formal bridal image, and it was used at the display at her wedding reception, set up on an easel.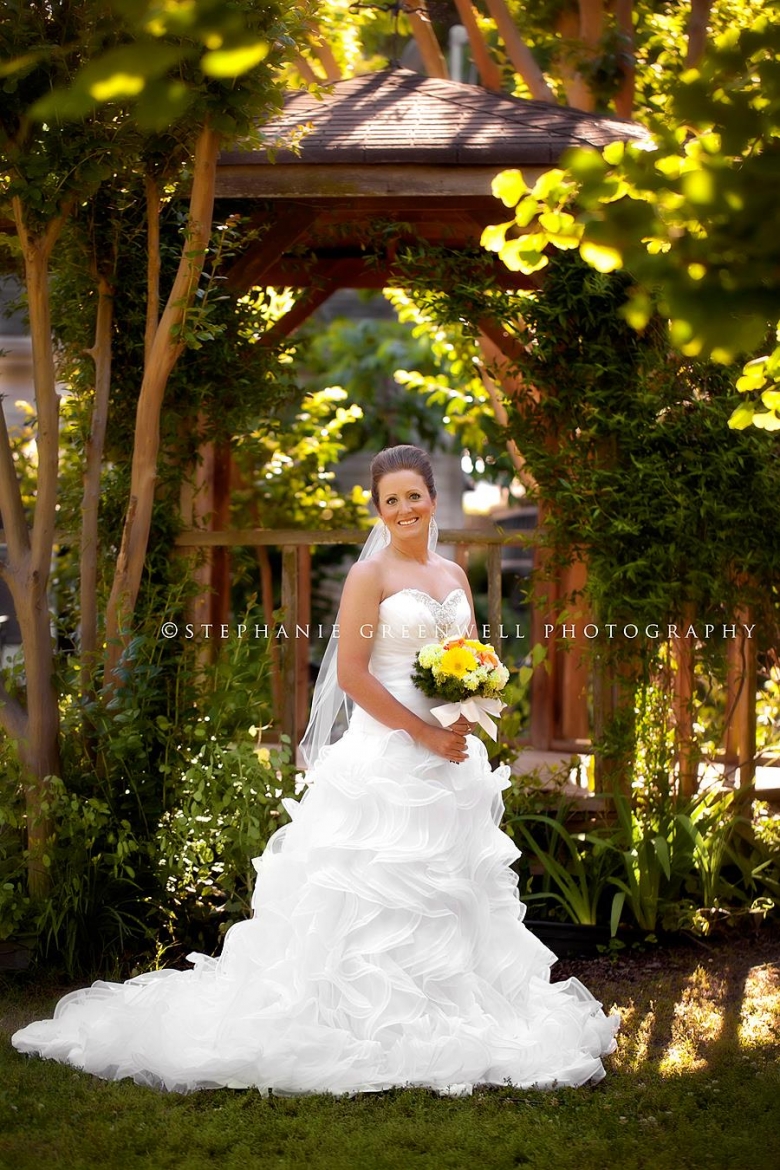 After we shot a few there, we moved on to a more outdoorsy location, and incorporated a rugged barn and tall grass for this set of images. Taking a huge wedding gown out into this area proved to be a small challenge, but we made it work with the help of her assistants (i.e. her mom and her best friend).
Because Leslie is super close to her daddy, and I'd venture to say that she's a daddy's girl, she wanted to do something special for him in her session. So, she brought his hunting boots and his rifle and I shot a few frames incorporating his love of hunting. I do believe it brought tears to his eyes when she presented him with a framed image of her with a special written letter to go along with it.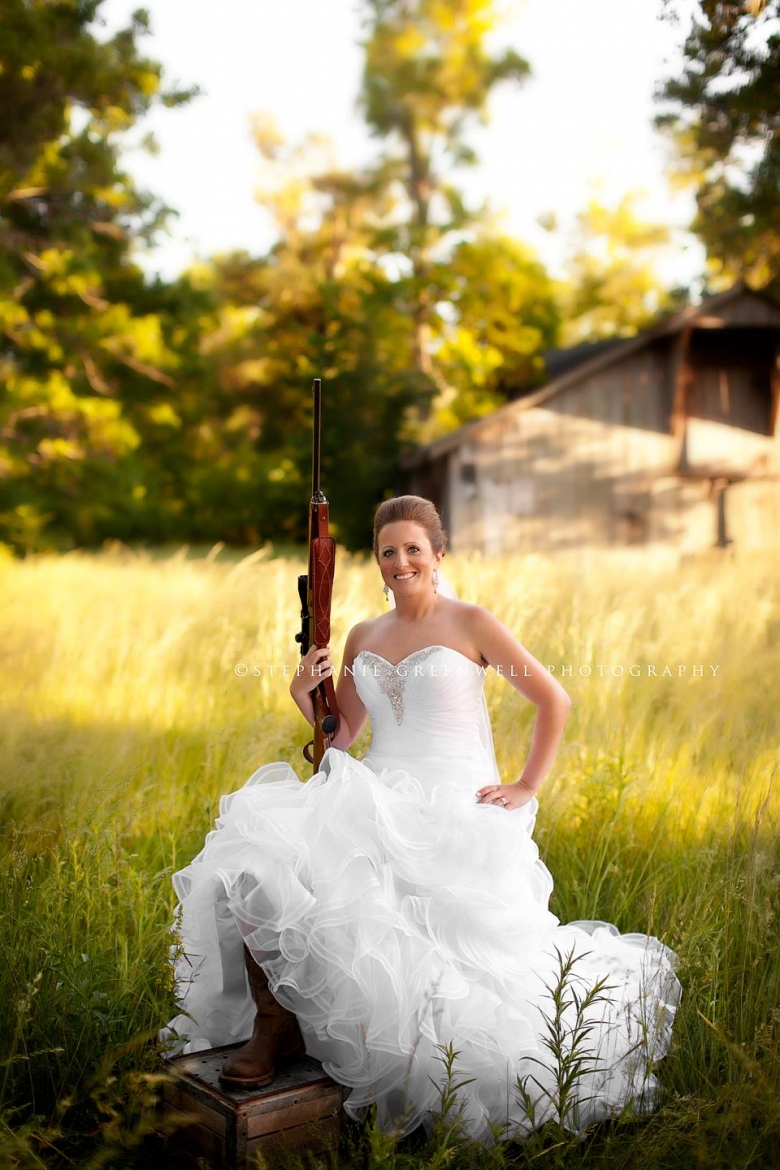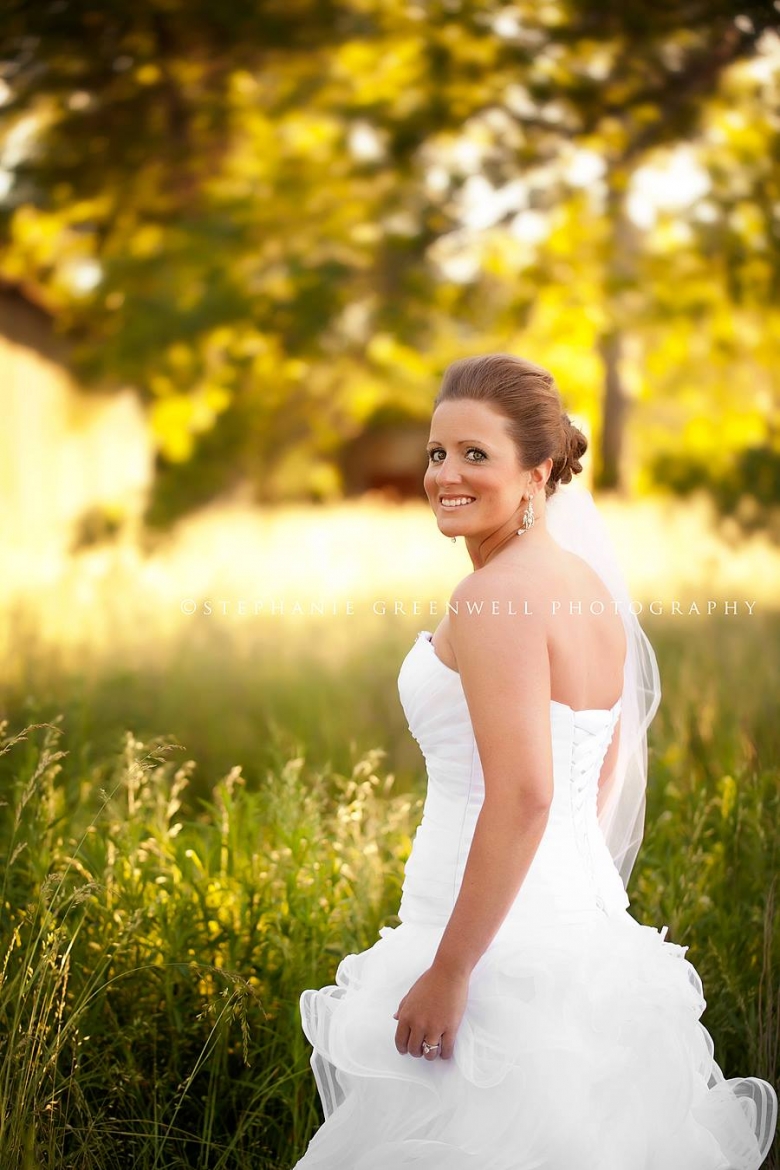 Then we finally headed to a completely random, overgrown with purple weed-like flowers for her final set. I was so happy about using the contrast of the purple and green against her white dress, and I knew that these would be some of my favorites of the session. Her serious face and those big, gorgeous eyes standing out in that green grass just kill it for me in that last image!
Leslie, it was truly an honor to capture such beautiful images of you in your wedding gown. I know that this afternoon was as special day with your mom and your best friend, and you never looked more gorgeous than you did that day. And then on your wedding day, you were even more radiant. Thank you for allowing to capture the images that will define your future as a loving wife. I can't wait for you and Josh to start bringing in a house full of babies, and I sure hope that you have a little girl with the same spitfire personality as you. Much love to you and your family!